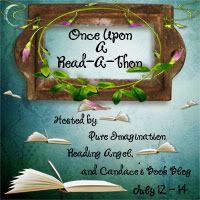 So Once Upon a Read-A-Thon, hosted by Pure Imagination, Reading Angel, & Candance's Book Blog kicked off today. I am trying to read at least 5 books. We'll see how that works out. For more info on the read-a-thon
click here
, to sign up
click here
, and to get the complete rules for this mini challenge or to submit your answer
MINI CHALLENGE #1
-- Fav Fictional Couples and Crossover Couples
for rules or to submit your own answer
click here
.
Fav Fictional Couples:
Sam and Grace from Shiver/Linger
Rose and Dimitri from Vampire Academy Series
Wanda and Ian from The Host
Crossover Couples
Simon from The Mortal Instruments and Tori from Darkest Powers. I know its kinda crazy but this was a hard one!!
MINI CHALLENGE #2
-- Song for fav book/character
s
for rules or to submit your own answer
click here
.
I'm putting together Jace & Clary from The Mortal Instruments with Resistance from Muse. Which happens to be my favorite song.
Keep Checking Back for new more updates and mini challenges. (As I finish books they will be posted in my left sidebar under events)