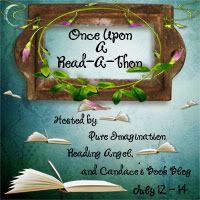 Hey everyone! I hope you are all reading furiously. I'm really trying. I just finished Glimmerglass by Jenna Black. And now I'm going to finish The Deathday Letter. Follow my progress on Facebook and Goodreads (links found in right sidebar) Now onto todays mini-challenges

MINI CHALLENGE # 3

-- Books and emotions

for rules or to submit your own answer click here.

1. What makes me the most emotional when I read?
When things go bad in the romance that makes me the most emotional. I am such a romantic! But its the truth whether they break up, one dies, or if they just have a fight I get so upset
2. What is the book that has made me the most emotional?
Hands down Shiver by Maggie Stiefvater but The Host by Stephanie Meyer is a close second.
For more info on the Read-a-Thon click the picture on my left sidebar. Comment your updates or answers to the mini-challenge.